There's only three weeks left until we take to the skies and set off on our adventure! We know you have a lot of options out there, so we thank you for booking with the Nintendothon Travel Agency this summer! Before you set off on our Odyssey vacation package, we want to take a bit of your time to brief you about all of the things you can expect to experience before your journey begins later this month.
Following the success of Nintendothon New Horizons last summer, we set out this year to recreate the cohesive and engaging event experience that so many of you enjoyed. After more than two months of extensive planning, brainstorming, and drafting, Nintendothon Odyssey was born. We are so excited to share all of the things we have planned for this event with all of you in the coming days! Although the best of our announcements regarding Nintendothon Odyssey are yet to come, we believe there's no better time than the present to get our first set of announcements underway, starting with our new system for donation incentives!
---
Looking for a memorable experience any day of the event? The Nintendothon Travel Agency's Incentive Shop has got you covered! Check out the shop's catalog at any time during the trip and get a donation incentive on demand!
This summer, we're putting the power in your hands when it comes to our donation incentives. Rather than randomly selecting donation incentives or forcing you to spin a wheel and hoping for the best, we're giving you the option to directly add an incentive to your contribution at Nintendothon Odyssey! Throughout the entire marathon, we'll be offering a selection of smaller-scale incentives priced anywhere from $3 to $30, giving you the opportunity to add an incentive to most donations!
A sample of what the Incentive Shop will look like when donating to the Tiltify campaign. You can select one incentive to add to your donation or increase your donation amount and add a more expensive incentive. Note: Incentives and prices provided here are samples and not finalized.
The incentive shop will take advantage of the Rewards system built into Tiltify. When making a donation, you will be given the opportunity to add an incentive equivalent to your donation amount or less for no extra cost to you. While we're still finalizing our list of incentives being offered on the shop, we hope you look forward to having the power to directly affect the outcome of the stream!
---
Feeling like living on the edge? Purchase Spincentives from the Incentive Shop, and let the spinning wheel decide your fate!
The fan-favorite Spincentive wheel is once again returning from events past, but this time with some added stakes to shake things up! This marathon, our spinning incentive wheel will offer up all of the incentives available in the Incentive Shop as possible options to land on. At a flat rate of $10 per Spincentive in the shop, spinning the wheel has the potential to grant you a more expensive incentive for a cheaper price! In addition to all of the shop incentives, the Spincentive wheel will also have its own unique incentives that cannot occur any other way. Whether it's more intense exercises or slaps across the face, we encourage you to send that wheel spinning; you might just see something super unique!
We're also happy to say that we heard your feedback about Spincentives loud and clear, which is why we're once again bringing back Spincentives as a channel point reward! For the low cost of 5,000 Impact Points, you can send the Spincentive wheel spinning for free! How do you earn Impact Points? It's easy! Tune into Nintendothon Odyssey and stay engaged with the stream across the five days that it's live.
Redeem your Impact Points on the GFGC Twitch Channel for a Spincentive during the marathon!
We hope you're looking forward to adding a bit of uncertainty to your Nintendothon Odyssey adventure. After all, variety is the spice of life!
---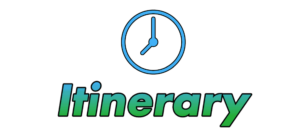 The Nintendothon Travel Agency has planned five days of action, adventure and fun for your getaway! Sit back and enjoy the experiences we have planned for you!
Scheduling is officially underway for Nintendothon Odyssey, and this event, we're looking to make your game-watching experience even more enjoyable. Since our last event in 2020, our collection of first-party Nintendo games has grown significantly, allowing us to refine our game lineup to feature even more entertaining games throughout the entire marathon. The new game selections for Nintendothon Odyssey are set to include:
Miitopia
Luigi's Mansion 3
The Legend of Zelda: Link's Awakening
Super Mario Maker 2
Super Mario Sunshine
Hyrule Warriors: Age of Calamity
New Pokémon Snap
Mario Golf: Super Rush
We hope some of these new selections interest you! The full schedule for Nintendothon Odyssey will be posted in the coming weeks and will be available over at the Nintendothon website. Stay tuned to this site and the GFGC social pages for further information about when the schedule will be released!
---
The Nintendothon Travel Agency has even more experiences to offer you as thanks for traveling with us!
To help every single donation toward our $1,500 donation goal count for something, we will once again be offering incentives for reaching different fundraising milestones! We've placed a bonus donation incentive for every $375 raised for the GFGC Splash of Summer Campaign, giving you four additional incentives that you can help us unlock! For Nintendothon Odyssey, our Milestone incentives are as follows:
Lemon Social
Unlocked at $375 Raised
This classic incentive was featured at GFGC's first charity event all the way back in 2013, and is making its return once again at Nintendothon Odyssey! Join the attendees as they power through eating lemon wedges live on stream, sour pucker faces guaranteed!
Strange Soda Test
Unlocked at $750 Raised
Pouring its way in halfway to our donation goal is the Strange Soda Test! In this fan-favorite incentive, attendees sample sodas with weird and wacky flavors. Whether it's sweet corn, buffalo wing, or ranch dressing soda, you never know what strange concoctions the attendees are going to be sipping!
6AM Pool Dunk
Unlocked at $1,125 Raised
The 6AM Pool Dunk is splashing back in this summer at Nintendothon Odyssey! Donate to the GFGC Splash of Summer campaign and you'll send our attendees splashing into our cold pool at 6AM!
Improvathon
Unlocked at $1,500 Raised
The fan-favorite Improvathon rounds out our milestone incentive selection at Nintendothon Odyssey! In this "Whose Line is it Anyway?" inspired donation incentive, attendees play classic improv games, such as Party Quirks! With viewer submitted character quirks and lines, the Improvathon is a must-see incentive that's entertaining for both us and you!
We're excited for these popular, legacy incentives to return as milestones once again! Help us unlock them by donating to the charity campaign so you can see us go through them!
---
Whew, what a lengthy update this has been! That's unfortunately it for our announcements and news today, but tune into the blog next week for even more updates regarding the event! Nintendothon Odyssey begins at 4:00PMCT on July 22nd, 2021, over at the GFGC Twitch Page, and we hope you'll join us for five days of fun! Want to make an impact before the stream even starts? Consider a donation to charity: water through the campaign today! The minimum donation is $1, and 100% of your donation will go straight to charity: water! We're so excited to take to the skies at Nintendothon Odyssey, and can't wait for you to join us on this adventure!