Greetings and salutations GFGC! As some of you may have noticed, things have changed quite a bit around here. I'd like to give a big shoutout to our friend Cosmo for putting together this brand new website for us. Thank you for all of your hard work!
The last time that I wrote to you, it was to announce our GFGC Marathon: Level Up event back in January, and what an event it was! After four nearly-full days of streaming, we were able to raise $1,652 for the benefit of The Trevor Project, uniting our community together to fund life-saving mental health resources for LGBTQ+ youth. This event truly would not have been possible without the incredible dedication and passion of the GFGC community. Thank you for everything!
Ever since the start of GFGC, we've always focused on supporting charities that address the many different crises that affect the world. Whether it's food scarcity or pediatric cancer, we've sought to help in the fight against the various issues that affect so many people.
In the research for our fundraiser for The Trevor Project back in January, it finally sunk in just how widespread the mental health crisis truly is. So many of us deal with some form of mental illness in our everyday lives, and for a good deal of us, it's a fight to overcome it every single day. Following the conclusion of our event back in January, we realized that there was still so much more work to be done in supporting mental health related causes. This is why I am excited to officially announce our next fundraiser: The No More Tears Campaign for the benefit of the National Alliance on Mental Illness (NAMI)!
---
About NAMI
The National Alliance on Mental Illness (NAMI) is a charity founded in 1979 that is focused on providing advocacy, education, support and public awareness, so that all individuals and families affected by mental illness can build better lives. Through a strong belief in their core values of hope, inclusion, empowerment, compassion and fairness, NAMI envisions a world where all people affected by mental illness are able to live healthy and fulfilling lives supported by a community that cares about them.
With the support of more than 600 local affiliates and 49 state organizations, NAMI's work is focused in five core areas:
Education

Offered in thousands of communities across the United States, NAMI's education programs help hundreds of thousands get the information and support they need for their mental health.

Support

NAMI hosts mental health support groups nationwide, so no one feels alone in their mental health journey.

Advocate

NAMI works to shape public policy in legislatures all across the US, helping to provide tools and resources that make it easier for people dealing with mental illness to both survive and thrive.

Listen

NAMI runs the NAMI HelpLine service, which allows individuals struggling with their mental health to get connected with information, resources, and support close to them.

Lead

NAMI leads public awareness events and activities, with the explicit goal of destigmatizing mental health and encouraging understanding.
---
We truly cannot wait to fundraise for NAMI this summer with our GFGC No More Tears Campaign! Our goal is to raise $1,500 this summer for NAMI and we need your help! Anything you can give this summer will help make a difference in addressing the mental health crisis. If you're unable to donate, you can help us by sharing the news about our campaign and events this summer!
But hey, we can't have a campaign launch without a proper kickoff, right? I am pleased to announce that your worries can rest easy, as the GFGC Summer Kickoff 2023 is coming your way this Saturday!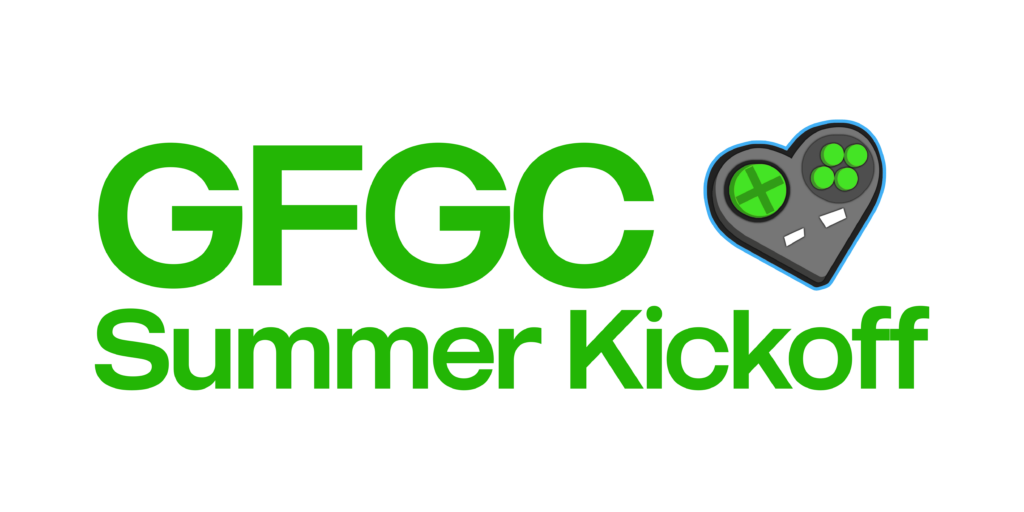 We hope you'll join us for a full day of fun this Saturday, June 24th, 2023, as we kick off our summer with a bang! Be sure to check out the schedule for the event below and catch all of your favorite moments!
Start Time (CDT)
Brodcaster
Game
12:00PM
I_amtori
Stray
2:00PM
Arflic
Beat Saber
4:00PM
Jardanium
Animal Crossing: New Horizons
5:30PM
Pastel_Elephant
GFGC Tabletop: Monster of the Week

Join the GFGC Tabletop crew for Monster of the Week, a tabletop RPG where the players are out hunting for cryptids. It's like Scooby Doo – for a good cause!
7:30PM
Leadership Team
Summer Nintendothon Reveal Trailer- World Premiere

Join the GFGC Leadership team for the world premiere of the reveal trailer for the next Nintendothon event.
8:00PM
HayHay
"Crowd Control" Minecraft
We truly can't wait to get our fundraising started at the GFGC Summer Kickoff this Saturday, starting at 12PMCT on the GFGC Twitch channel. We hope to see you there!